3M MATTE METALLIC BLUE MERCEDES C63 STORY
NFS Customs Staff / 10 December 2015
Last year summer we had a customer looking to do something different to his C63. He had big plans for it and heard about car wrapping so gave us a call, He came in for a consultation and gave us the honour of coming up with a design that he would be happy with! He gave us no reference on what colour he wanted nor did he say how he wanted it done. He gave us a budget on how much he is looking to spend and then handed us the key.
So we got started...
Day 1
First thing first, we washed the car thoroughly removing every dust and grit from the car, under all the arches, trims and gaps inbetween the panels.
Next...
We all sat down, had a brainstorm meeting and went through our colour cards. There are various different brands and colours for vinyl wrapping such as; 3M, HEXIS, ARLON, AVERY, ORACAL etc... after finding it hard to decide what colour to choose, we spotted 1 colour that we new would work really well with this car. We chose 3M Matte Metallic Blue Vinyl. This colour was loud and bright! A vinyl that works really well with a powerful car!
Next...
We stripped the wing mirrors, handles, grills, trims, bumpers etc... and got started. Due to the curves of the car, we had to think carefully to see where we would need to use 3M primer. 3M Primer ensures full adhesives connections. Most of the time this isnt needed but vinyl wrap sometimes finds it difficult to stick to recess areas due to the stretch limitation.
Next...
At this point the car is ready for wrapping. We measured the side of the car to find the right measurements in order to wrap the sides of the car then we measured the bonnet and cut both sides and the bonnet, allow me tell you why we do this...
we have 3 people who work 3 panels at one time:
1 guy works on one side
1 guy works on the other side
1 guy works on the bonnet
Strategically this works and we found this out after months of swapping around and wrapping different panels and found this to be the easiest way.
Vinyl wrapping the C63 in the 3M Matte Metallic Blue can be difficult only because overheating can discolour the film even if its 3M, so the best way to do it would be to move the heatgun in various directions ensuring you use a low heat setting.
it usually takes us just over an hour to completely wrap, cut & tuck in all 3 panels (2 sides & 1 bonnet).
So, after those 3 panels are cut we move onto the doors & quarter panels (because there's 3 of us, we strategically rotate to wrap the panels:
2 guys on driver side vinyl wrapping, cutting & tucking the back door & front quarter panel and 1 guy on the passenger side wrapping the front drivers side once thats done we then rotate over wrapping the front drivers side, passenger quarter panel and back door. Lastly we wrap the side skirts.
Then we move onto the Roof and Boot (2 guys vinyl wrapping the roof & 1 guy wrapping the boot)
by that time all of which is mentioned above is done and it is normally the next car we work on (same process).
Day 2
We arrive at the garage by 9am in the morning together and get stuck right in, switching the lights on, getting the radio playing (typically Magic FM). We measure up the front & rear bumpers and get the vinyl cut up and layed, again 3 man team with 1 guy vinyl wrapping the rear bumper and 2 guys wrapping the front. The whole process of vinyl wrapping, cutting and tucking in these panels takes roughly around 1.5hrs - 2hrs.
then we move onto the smaller things and sit down together and wrap the door handles & wing mirrors whilst enjoying eachothers company and having a laugh.
For the Mercedes C63 we also wrapped the door shuts which can take up to half a day atleast.
Day 3
Day 3, Painting the calipers & spraying the Alloys, Grills and Diffuser. We painted the calipers in 'Ferrari Red'. Drying time takes approx 5 hours to dry, after we check the paint is hardened we apply head resistant vinyl decals 'AMG ///'. Finally the little bits and bobs such as the rear Mercedes Badges & Mercedes Emblem are sprayed in Gloss Black.
Finally,
Day 4
On this day the customer comes to pick up his Car, he came in the evening around 6pm and he was shocked at how different and amazing the car looked (remember, he had not seen his car since we took it), we thought we'd do a unveiling for him to get a even better reaction from him - which we did!! He was ever so grateful.
Before we finish off this blog,
Here is an image of how the Mercedes C63 looked after the job we done.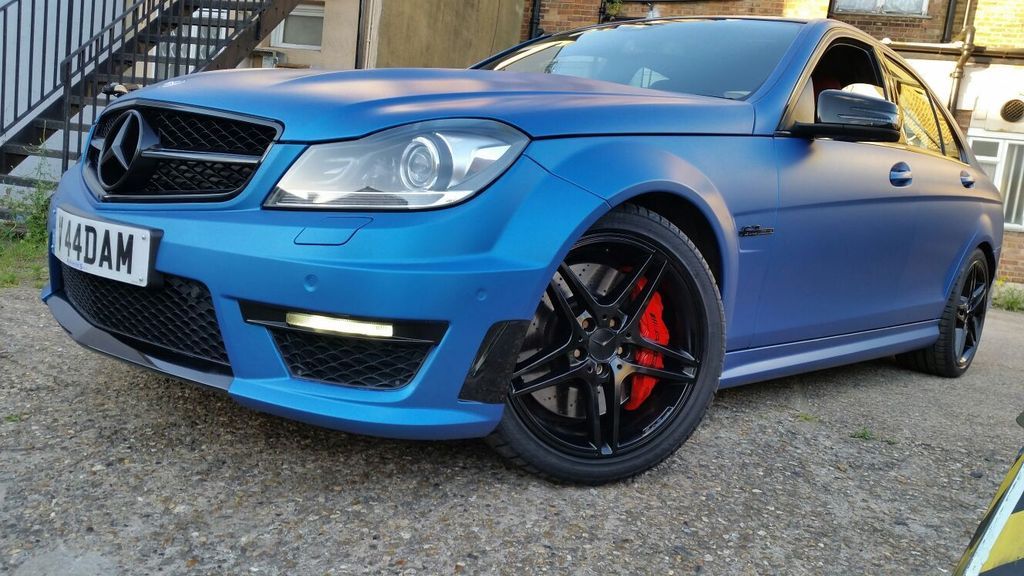 We hope you enjoyed reading the story of the Mercedes C63 that came in as a standard black and wrapped in 3M Matte Metallic Blue and we also hope you come back to read other blog posts we will be writing up so please stay tuned!
Iv left some more images of the C63 for you to take a look at down below, please feel free to have scroll through :-)
NFS Customs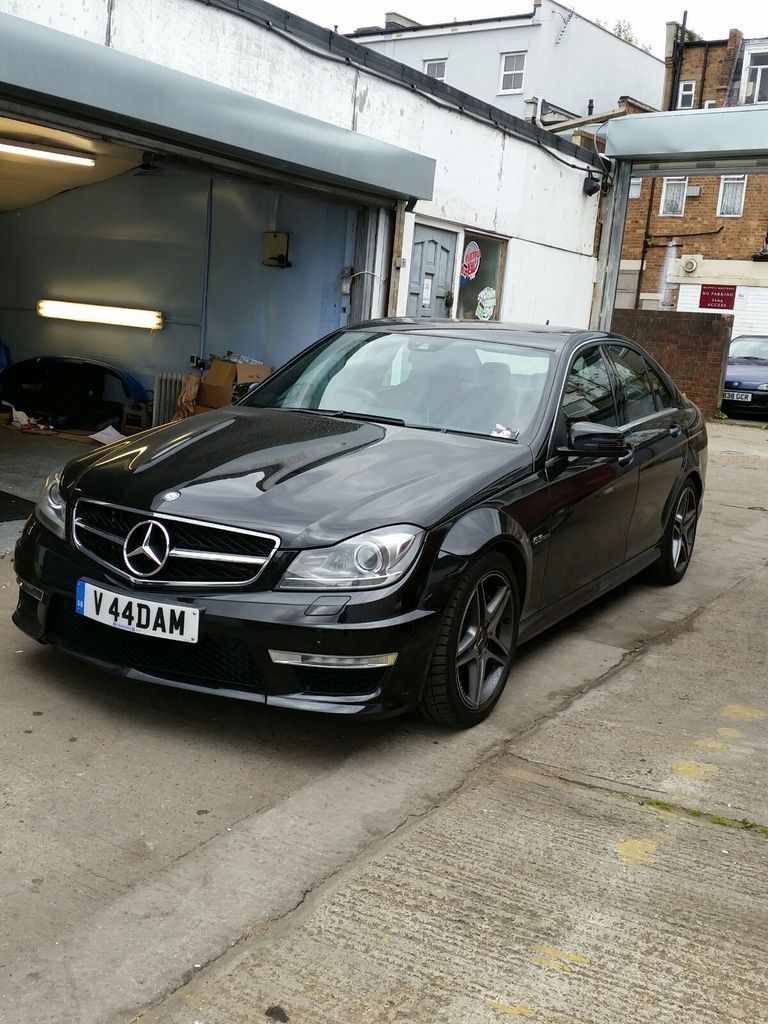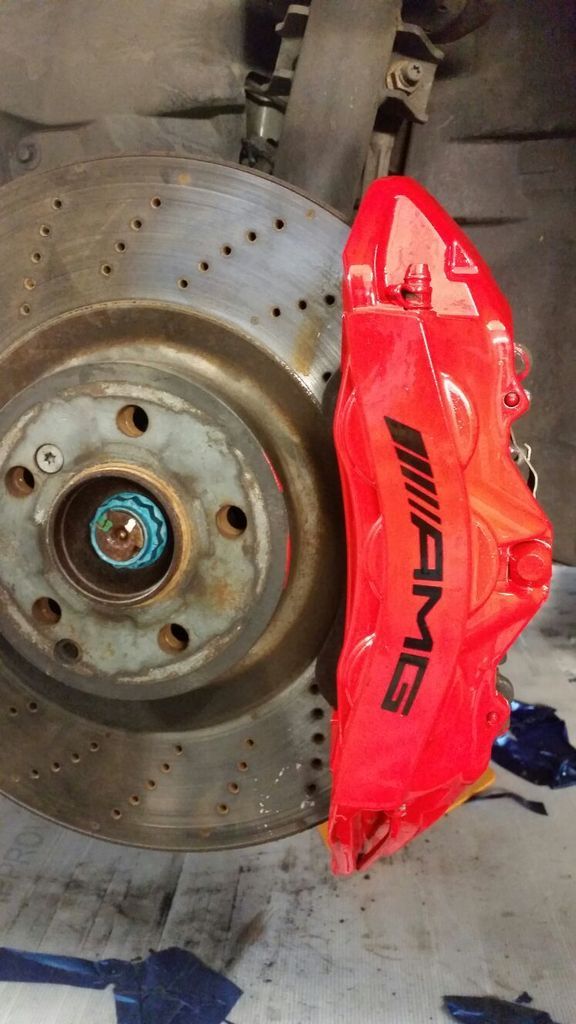 Vinyl Wrap Vinyl Wrapping Car Wrapping 3M Arlon Avery Christmas Offer Discount Sale Save Cars Vehicle Branding Alloys Window Tinting HID Angel Eyes Vinyl Wrapping 3M Matte Metallic Blue AMG mercedes Car Wrapping wrapping cars how to cleaning calipers